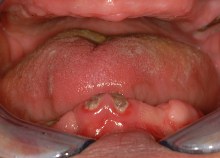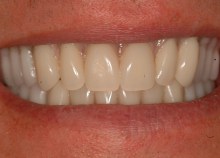 This chap came to us because he had had an accident which had destroyed many of his teeth and what he
had remaining were very wobbly. He is in his 40s and hated his dentures – often he would simply not wear them
and as a result has stopped smiling and lost a lot of his confidence.
We provided a complete new set of teeth (supported by dental implants in both jaws) within 3 months.
He is now smiling readily and reports that his life has changed dramatically since his confidence is restored.
The approximate cost of this treatment (both jaws) as a member of Winning Smiles: £22000