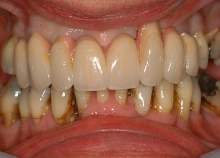 This lady came to us because she was having trouble eating due to the upper teeth moving a lot.
She was also suffering some pain from the upper teeth and finally, she wanted to improve her smile
(although this was last on her list of priorities!)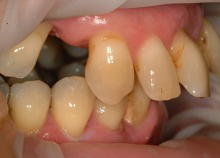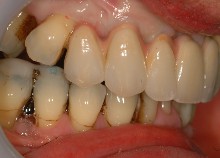 We found that gum disease (periodontal disease) had caused the bone to shrink back around all the upper teeth
which had made them very loose and prone to infections. They had also started to move and become splayed out
because of the gum problem.
We first treated the teeth to stop the gum disease in the lower jaw and prevent the need for further implant
treatment. Once the lower teeth were stable we removed the upper teeth and put implants in to replace them at
the same time (immediate implants). We were able to put a temporary bridge (not a denture!) onto these implants so
that our patient walked in with her wobbly teeth and walked out a few hours later with a fixed set on her new
implants.
We performed the surgery under sedation so that our patient was slept through most of it and awoke with her new teeth!
Within 12 weeks we were fitting the new ceramic bridge – you can imagine the reaction!