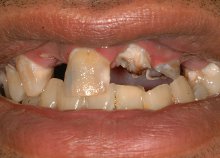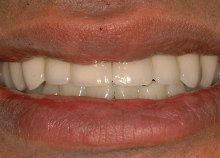 This chap came to us as one of the most dental – nervous people I've met.
He was also hugely embarrassed by his smile and had been smiling with his lips pursed together for 10 years!
He said afterwards that the hardest part of the whole treatment was not the multiple extractions and implant surgery, it was his very 1st appointment: building up the courage to come and see us and actually open the mouth for someone else to see it is often the hardest part.
We are always so impressed by the courage of our patients in making that first step.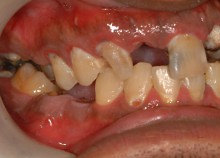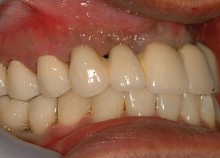 For this chap we had to remove all the upper teeth but 4 and 4 of the lower back teeth.
We whitened and used out Italian advanced cosmetic filling system to rebuild the lower front teeth
Then we completely adjusted and refined the bite using a full set of temporary teeth upper and lower
After removing all the rotten teeth we replaced them with implants and porcelain implant bridges