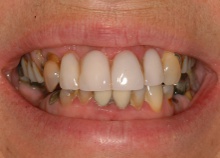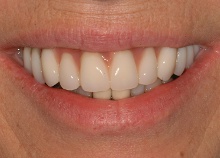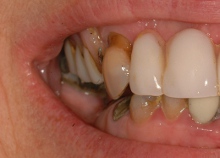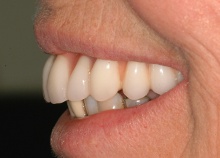 When this lady came to us, she thought she was beyond the point of regaining her smile.
The upper denture didn't fit very well, it was uncomfortable and difficult to eat, so that needed replacing.
After a CT scan and assessment, we suggested that an implant based fixed upper denture would work very well for her. We prepared an Acrylic replacement teeth on a metal frame that is now fixed to the dental implants.
During the treatment, we also fixed two sets of temporary teeth, whilst the denture replacement was being prepared – these alone gave instant improvement to her smile.
We hope you'll agree – we were rewarded with a great smile and she's very happy to regain her smile and confidence back.