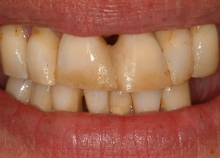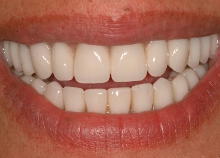 This lovely lady had lost most of her teeth (and confidence) when she came to us. The remaining teeth were discoloured and very wobbly.
We were able to totally reconstruct her mouth using photographs to match how her teeth were before the problems began! (Yes they were really white and perfect before).
We removed the teeth and fitted a temporary set of implants on the same appointment (immediate improvement) and the final permanent set of implants were fitted 12 weeks later after the gums had finished settling.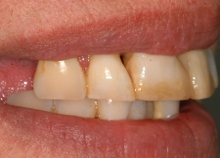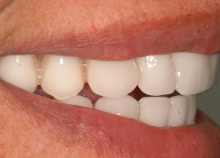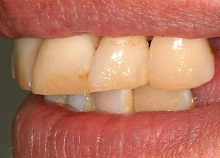 She can now eat any food she likes and her confidence is completely restored. She is positively beaming!
Please note that NOT all implant-clinics will place the implants and temporary teeth on the same day. This means that the patient has the teeth taken out and temporary dentures fitted. They typically wait 6-9 months wearing ill fitting temporary dentures before having their permanent teeth.